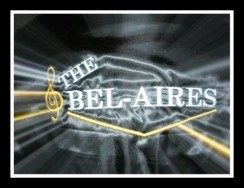 INTRODUCING THE BEL-AIRES: 
Bobby Lopez: Lead and backing vocals – Bobby is a resident of the Bronx and was a member of Juke Box Saturday Nite, the Jaynells (I'll Stay Home), and the Splendors, with whom he recorded the "The Dance Is Over" on the Clifton label.
Joe Milazzo: Lead and backing vocals – Also a resident for the Bronx, Joe was a member of the Destinaires (More, The Closer You Are) and Yesterday's News, an acapella group (Streets of Fire, Countdown To Love).
Joe Walsh: Lead and backing vocals – Another resident of the Bronx, our newest vocalist has performed in many acapella groups in the local tribal-state region like The Exceptions and the Exquisites.
Joe Bellis: Guitar, Lead and backing vocals – Also from the Bronx, Joe performed on Alan Freed Rock and Roll TV shows of the late 50s. He was a member of the Metro-Crystals and the Delmonicos, with whom he recorded on MGM records. Joe later played for many years with Nino and the Ebb Tides, as well as backing up the Charts and the Heartbeats. In later years he was the musical arranger for the Solitaires.
Mark Bertles: Keyboards, Bass, and backing vocals – Mark has performed with a variety of acts over the years, from playing with members of Merle Haggard's Strangers and the Vanilla Fudge to sharing the stage with Herman's Hermits, REO Speedwagon, Rufus, Fabulous Flippers, Richie Hart, and the Esquires.
Anthony Patriarca: Drums – Anthony has an illustrious background performing with such national acts as Chubby Checker (including a performance on Midnight Special), Meat Loaf, and Flo and Eddie of the Turtles.
A BRIEF HISTORY OF THE BEL-AIRES:  
Bobby Lopez, along with bassist Larry Lee, guitarist Ken Collopy, and vocalist Joe Incognoli, formed the Bel-Aires from the breakup of the 60s Doo-wop group The Jaynells. With original lead vocalist Vic Spina, the Jaynells had a regional hit with "I'll Stay Home" in 1963.
The four brought in vocalist Joe Milazzo, keyboardist Mark Bertles, and drummer Kevin McManus and completed the 7 piece group in 2008. Lee passed away in 2012 and Mark Bertles became the keyboard bass player, and were now a 6 piece unit. Collopy left later in 2013 and guitarist/singer Joe Bellis joined the group. Vocalist Mickey Castaneda replaced Incognoli in 2016. Castaneda retired in 2022 and was replaced by Joe Walsh. Long time drummer Kevin McManus also retired in 2022, to be succeeded by Anthony Patriarca.
The Bel-Aires have shared the stage with such acts as Eugene Pitt & The Jive Five, Kenny Vance and the Planotones, Jimmy Gallagher and the Passions, The Devotions, Barbara Harris and the Toys, The Duprees, John Kuse and the Excellents, Joe Favale and the Emotions, Emil Stucchio and the Classics, Randy and the Rainbows, Alive 'N Kickin', Kid Kyle, The Barons, Joey and the Paradons, Streets of the Bronx, Manhattan Skyline, Classic Sounds, and many others! 
They reside in the Bronx and Westchester.